Being Thankful with OMQ
November 23, 2017, by Ginger Wong
This Thanksgiving, I thought I would share a slightly more personal blog post by being thankful for OMQ artist Alfonso Wong's contributions to my life and our world.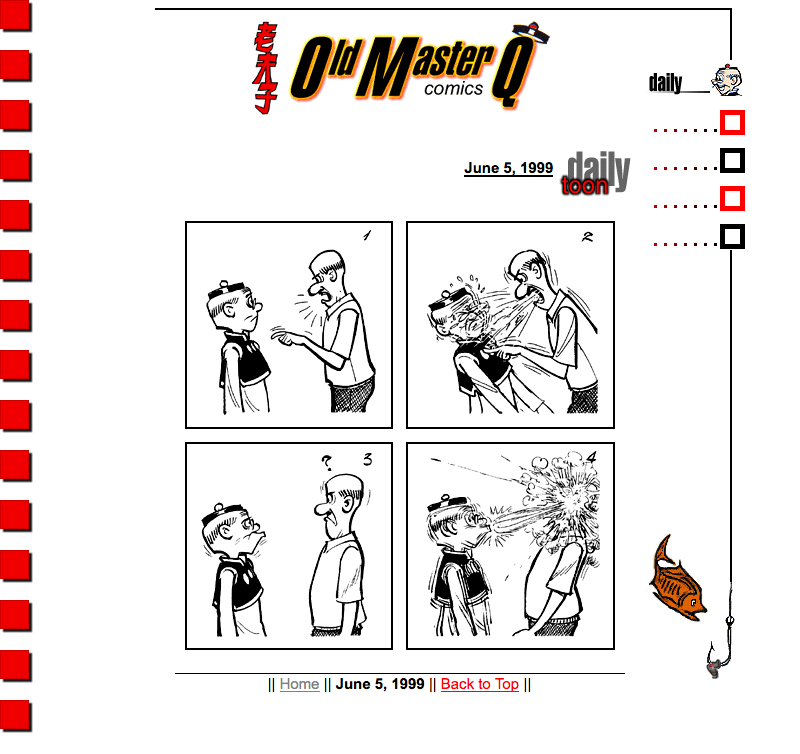 The very first version of oldmasterq.com! (circa 1999)
First off, I am very fortunate to be one of Mr. Wong's descendants and I am thankful for having access to so much of his works to share with you online. It has given opportunity to be able to put Old Master Q over the internet for the last 15+ years.
This sharing process has not only honed my web engineering skills for my professional career over the years, it has also given me both a creative and business-minded outlet to balance the other half of my brain!
I am also thankful that the Old Master Q comic drawings are just SO GOOD, that I have to share them with you! I love Mr. Wong's artistry in the details of all the characters' facial expressions, and the outrageous situations that they find themselves in.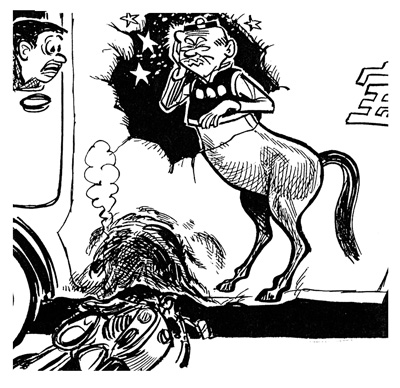 Who am I?
I am Ginger Wong, one of the grand daughters of Mr. Wong. I grew up in America and like many, I spent countless hours "reading" the piles of Old Master Q magazines at home. I didn't know how to read Chinese, but as most will attest, you don't really have to since the comics are expressive enough to explain themselves.
I wasn't close to my grandfather. As a child I was always told not to bother or annoy him with too many questions. I had always wondered why a funny comic artist who kind of looked like Big Potato would get mad at a child, but I never questioned my parents. Fortunately for them, I was very obedient kid. Besides the required politeness of 'good morning' greetings and 'thank you's, I barely spoke to my grandpa at all.
But I do have a some small but cute memories of the few times I spent with him during my childhood.
I remember my family would take me to visit him at his home in southern California during the summers, where I would shyly watch him paint the covers for the next months' issues of the OMQ magazine. I watched from a distance behind the door opening, being careful not to disturb him, yet also being fascinated that his modest office was where the OMQ magic happened.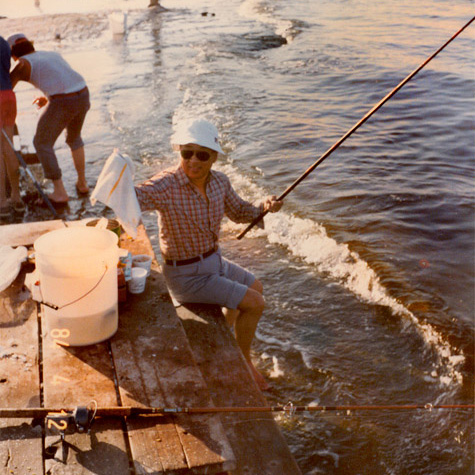 Alfonso Wong's fishing passion
During his breaks, I tagged along on fishing trips to the local lake where he showed me how to hook squishy mealworm baits to catch bluegill for dinner. I remember the lake was one of the few places where I could tell he was truly relaxed and happy. He was also very proud of his fishing rods. Every year he was always eager to show me and my dad the latest upgrades in fishing rod technology that he had just gotten.
A few years later, I remember he was excited to show me the fruits of his next artistic endeavor into pottery. We drank from his hand-crafted tea cups, while observing the details of all the carp and dog sculptures he had created that week in the ceramics studio.
Today
As many have heard, Alfonso Wong passed away earlier this year in on Jan 1, 2017. (CNN, BBC)
With the press that surrounded his passing, it was quite moving for me to see how he had entertained millions of fans with his Old Master Q legacy.
From the memories that I do have with him, whether it was his pottery or fishing gear, or of how he saw life through the humorous eyes of OMQ, I've realized that my grandfather was a humble man who just wanted to share what he enjoyed the most.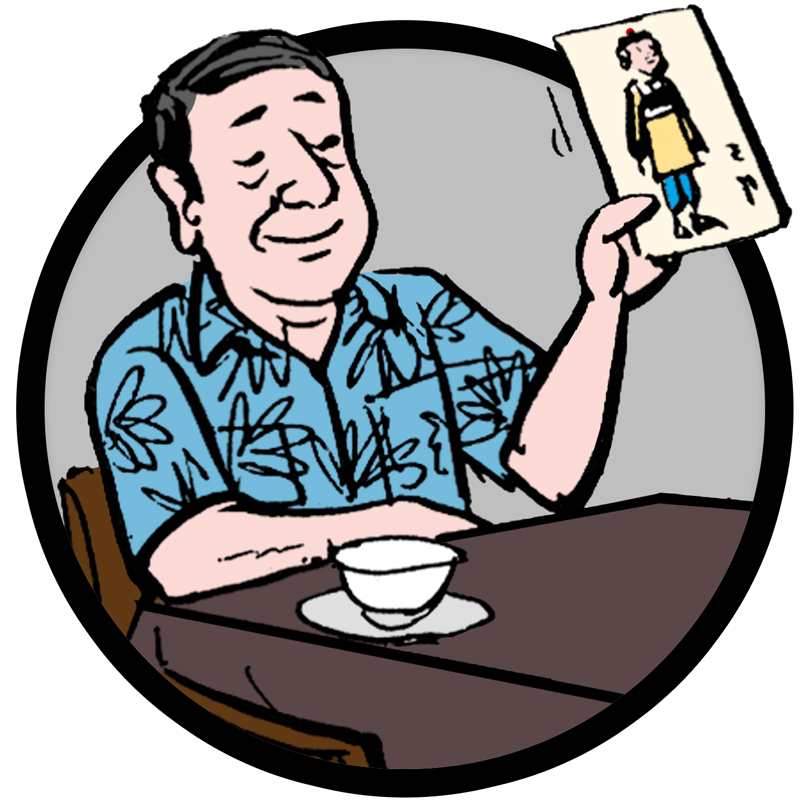 Alfonso Wong self portrait
My grandfather has said:
我的一生就像漫画. ("My life is like a comic strip".)
There must have been so much about him and his comic strip life that I just never saw. While I am grateful for the few times I had spent with him, I also wish I had broken out of my quiet shell as a kid and gotten to know him better as family member.
His funeral brought together his many other artistic and talented family members with whom I am grateful to have gotten to know a bit better since then.
We are fortunate today to also have my father Joseph Wong (王澤), Alfonso's eldest son, continue the Old master Q legacy, and provide me with even more material to share on my OMQ web sites.
Thank you
For Thanksgiving, I hope that you have a great holiday with your family. I know it may be difficult, but see if you can find a way to get to know some of your more distant family members better. You never know, but they may be full of interesting things that they're just waiting to share with you!
Thank you for reading and following Old Master Q online!
-Ginger