Big Potato's Fitness Tips and Tricks
January 20, 2018, by Ginger Wong
If one of your New Year's resolutions is to get fit, Old Master Q's lovable buddy, Big Potato, has a few fitness tips and tricks to get you in shape!
A. Fitness and Weight Loss Tips
1) Lift with a partner
Weights are heavy, weights are hard; how are you ever going to lift them over your head? With a friend of course!
Big Potato can attest that working out with a partner will make your lifting routine so much easier. Bonus points if your partner is a magician!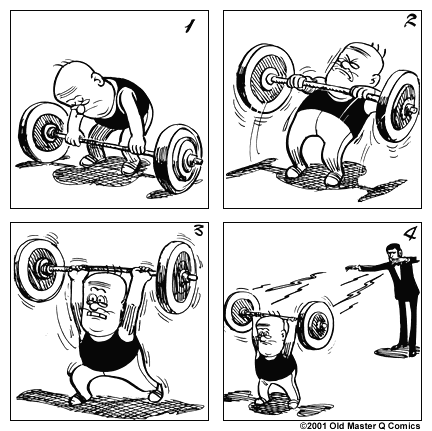 #0462 魔術舉重 Magic Weight Lifting
Source: https://www.oldmasterq.com/comics/462/
2) Use your height to your advantage and strengthen your core
Big Potato may be vertically-challenged, but that also gives him plenty of opportunities to get a core workout when he climbs up to on a wall trying and watch a live game with his pals.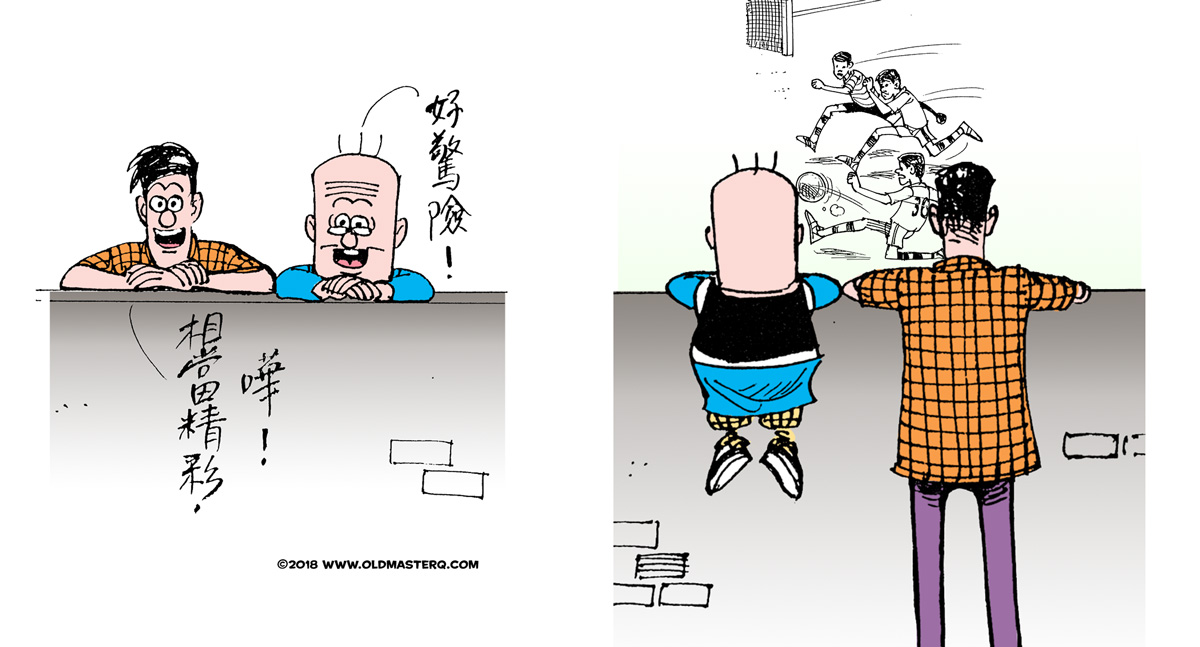 3) Relax on the beach
One sure way to get thin is to lose the water weight!
You could go spend a nice time drying out under the sun with Big Potato. He got skinny real fast with this trick! We recommend this method as a last resort, since it's important to stay hydrated. Plus the sun's UV rays are bad for you, so bring some sunblock!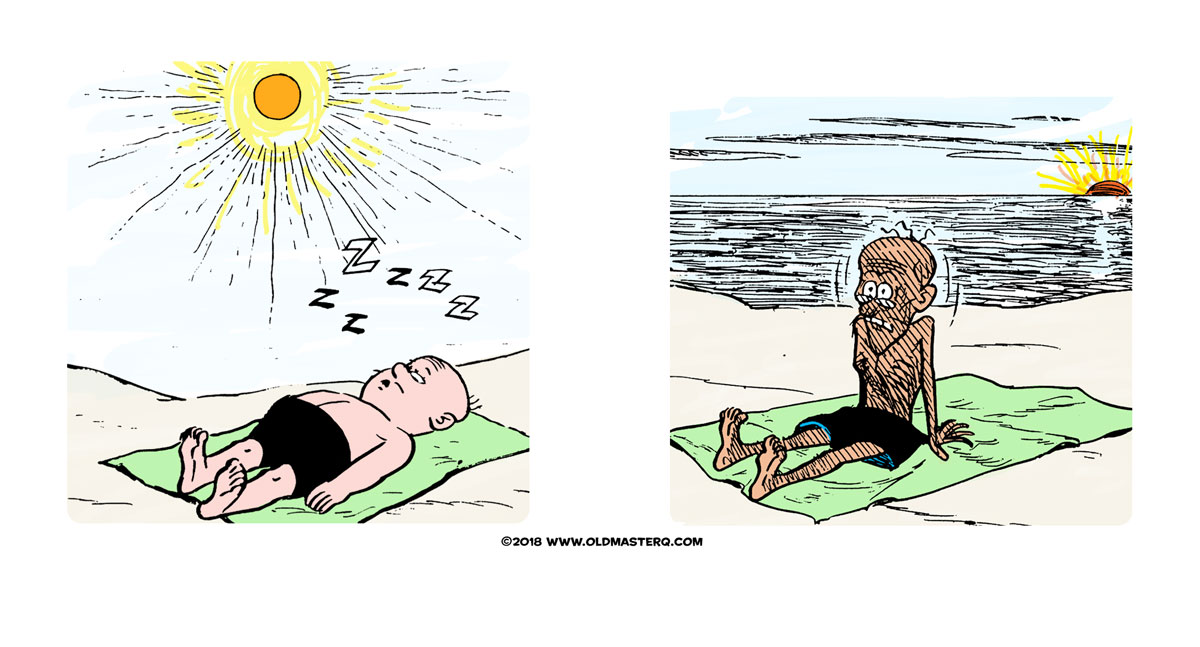 4) Shake off the flab!
Big Potato learns that using a shaking machine really does jiggle the fat away! Those 1950's vibrating belt machines may be making a comeback soon as researchers discover they could be good for your health. Considering strapping one on adding a few minutes of shaking to your fitness regiment per day.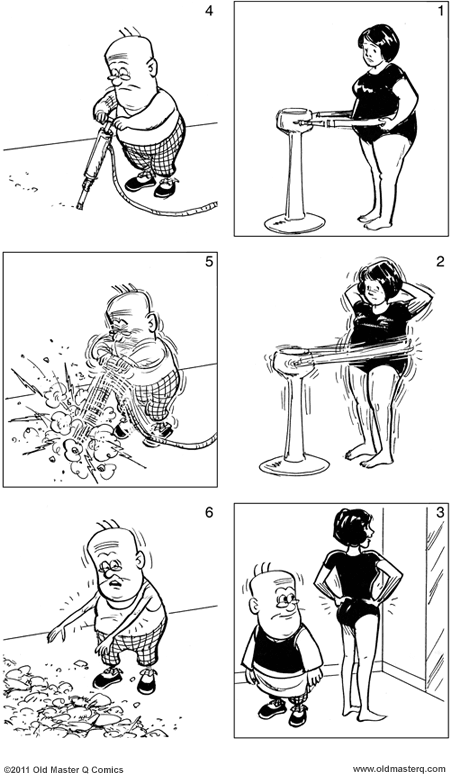 #1982 局部減肥 Localized Dieting
Source: https://www.oldmasterq.com/comics/1982/
5) Do the Hula Hoop!
Hula hoops aren't just for kids anymore! You will earn numerous health benefits just by adding hula hooping into your daily fitness routine, plus it's fun. Check out how slim Big Potato got from his hula work out!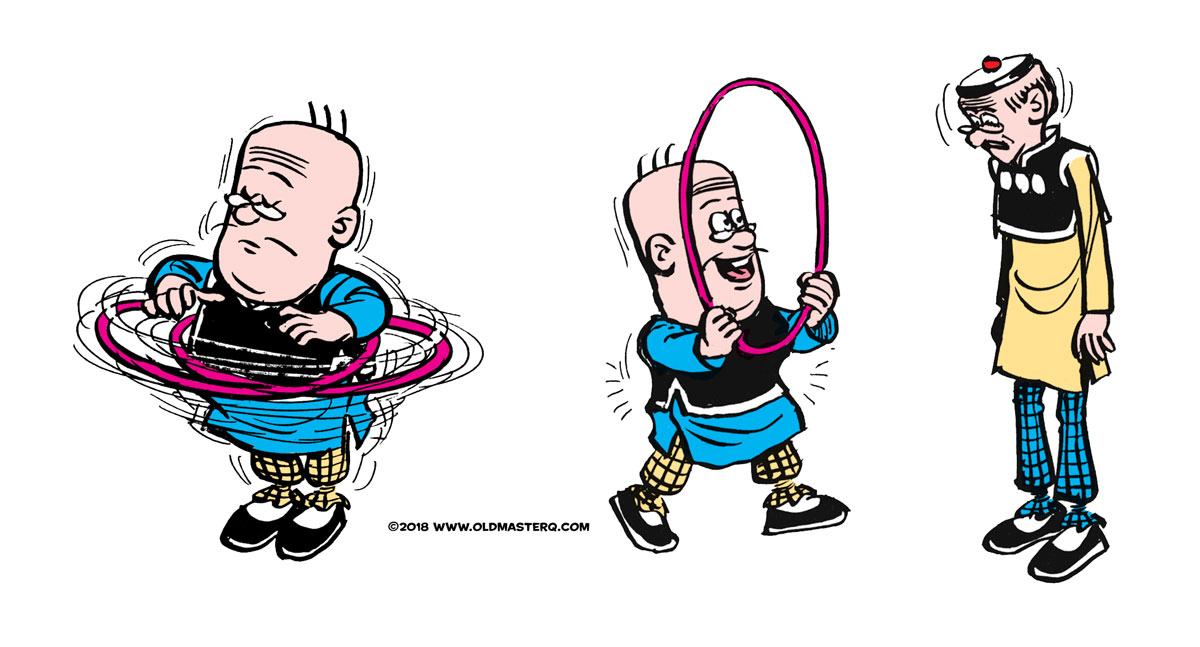 B. Beat the Competition
Getting fit doesn't happen overnight. In the meantime, Big Potato will show you some tricks that he uses when he faces an athletic challenge.
1) Use your head (and your hair)
Potato's arms may be short, but that doesn't mean he can't balance upside-down! The hairs of his head are surprisingly strong, and the top of his head makes a great flat platform.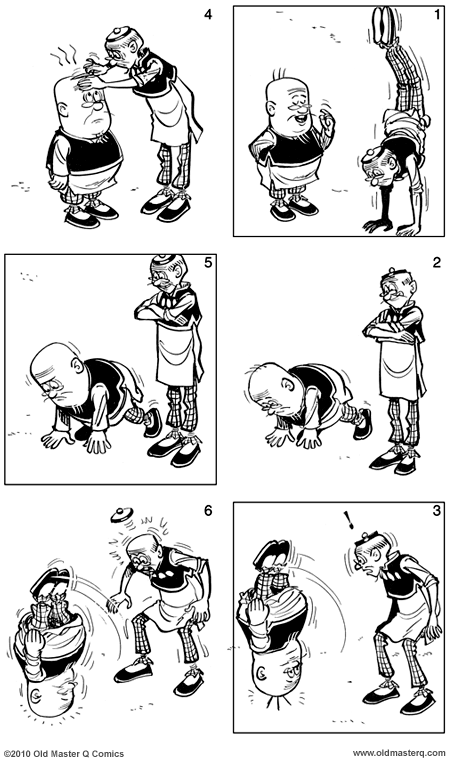 #1833 不同凡響 Outstanding
Source: https://www.oldmasterq.com/comics/1833/
2) Get Pumped Up!
Don't have a 6-pack yet, but you still need to show off your guns? Easy, an inflatable suit will do the trick.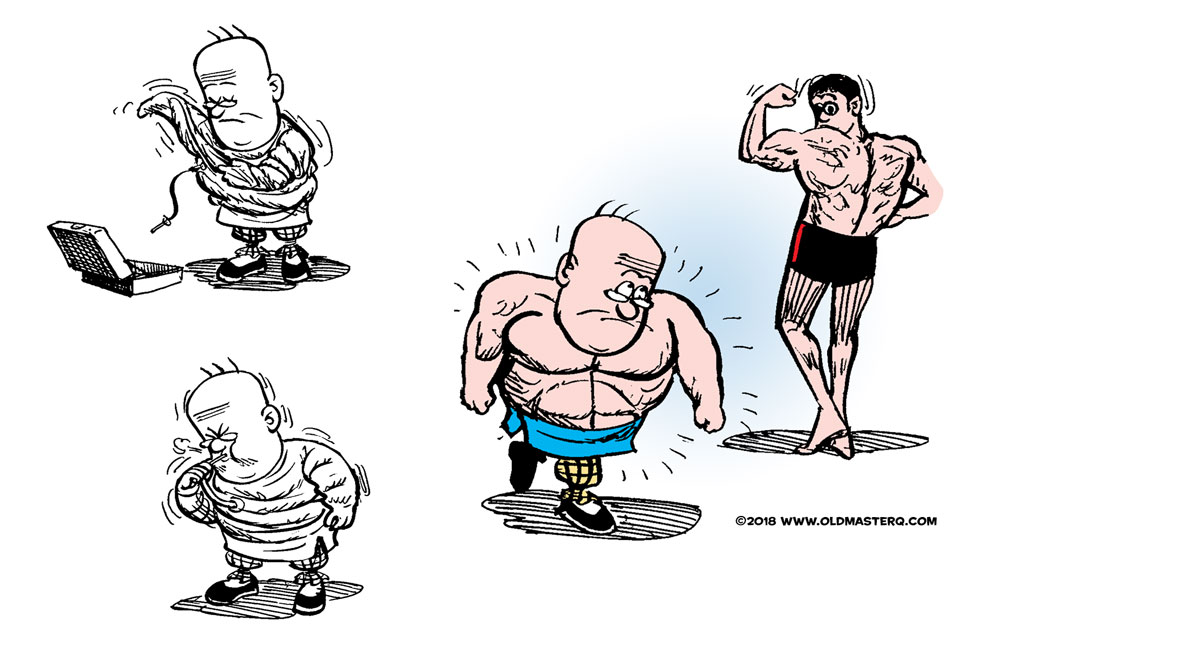 3) Crush those Weights
Not only is Big Potato's hair made of steel, apparently so are his teeth. His teeth already have a good fitness routine with all the eating he does. Now he can show off their strength in the weight room.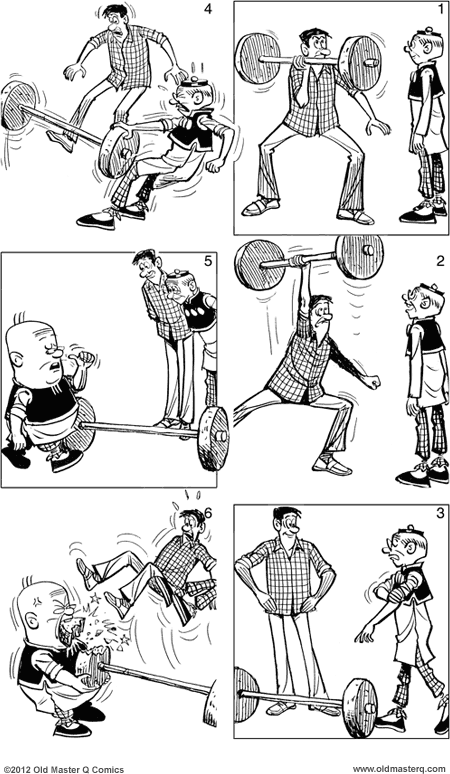 #2090 各有千秋 Individual Strengths
Source: https://www.oldmasterq.com/comics/2090/
4) Ready, Set, Roll!
Using your legs to run is tiring. So let geometry and physics do the work for you in a race! With Potato's round figure and lower center of gravity, he can race OMQ by rolling his way to a win!

We hope you find ways to integrate some of Big Potato's clever fitness tricks to your routine. Good luck!