10 Signs that Old Master Q is a Hipster
September 04, 2017, by Ginger Wong
Hipsters are often characterized as individuals who defy mass consumerism and boycott against mainstream culture. They are making a statement that says, "Hey I'm different from all the basic people out there because I'm cultured and I'm talented in obscure activities!"
Here are some of the ironic ways that Old Master Q exemplifies this hipster attitude.
A. Hipster Fashion Sense
1) Vintage Clothing
Hipsters love to wear vintage clothing. With OMQ, you can't get more vintage than his Ming dynasty tunic! While his outfit has been drawn to be a bit shorter than the original tunic, it is the only thing he has in his closet, and it is how we identify him and the comic strip. By ironically wearing his traditional vintage attire in our modern day world, Old Master Q is telling us that he's a master from a more cultured Chinese era than the society that he lives in today.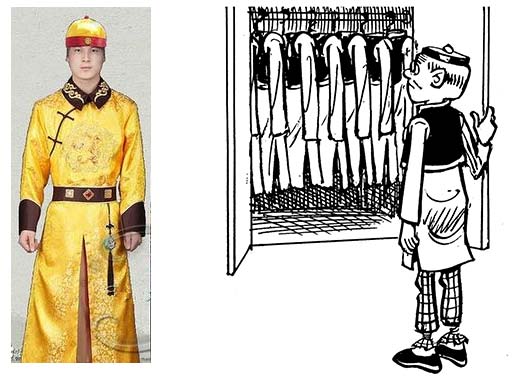 2) Strange Hats
Hipsters are often seen wearing uncommon, sometimes weird hats. To complete his Ming wardrobe, OMQ dons his funny flat little hat. We think it is actually made of aluminum, and also, how the heck does that thing even stay on his head?!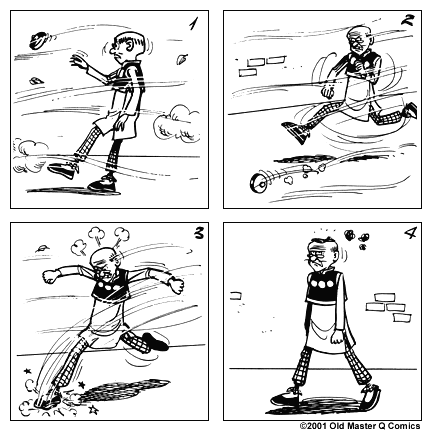 #0650 一腳後果 Consequences
Source: https://www.oldmasterq.com/comics/650/
3) Plaid, Skinny Pants
Both plaid shirts and skinny pants are fashion staples in a hipster's closet. The plaid pattern ironically stands out since it is traditionally worn by western lumber jacks or senior citizens. OMQ dares to steps up the hipster irony by wearing plaid pants! Skinny pants are just the fashion norm these days, plus they fit better around OMQ's skinny legs!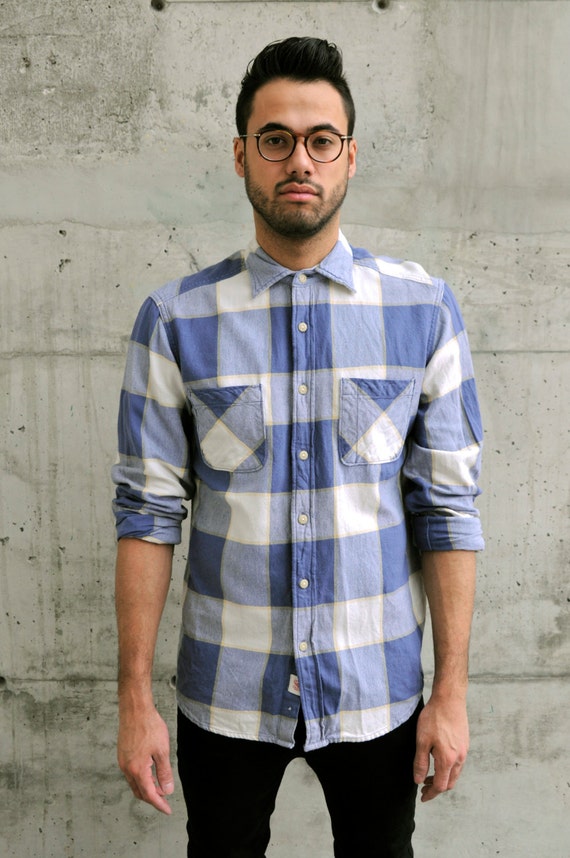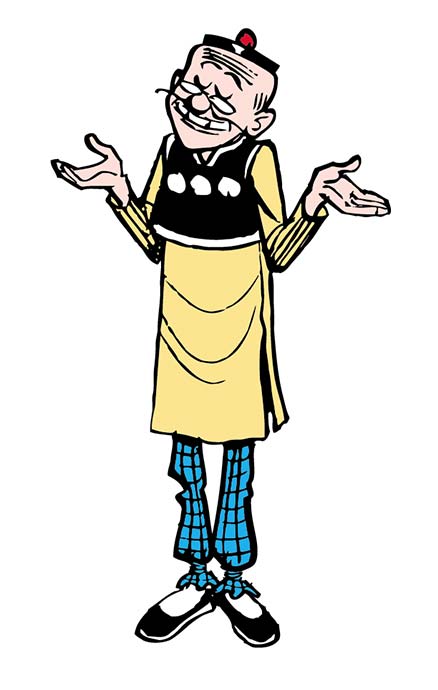 4) Funny Mustaches
You might not be able to tell, but OMQ actually has some facial hair going on. They don't look like much, but give Master Q a break, those little whiskers probably took him months to grow out!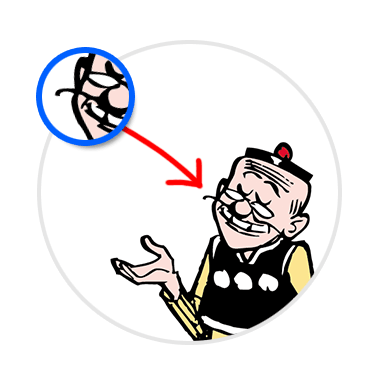 5) Suspenders
Beneath his traditional attire, OMQ also wears suspenders which he on occasion reveals to the public on his less ironic days.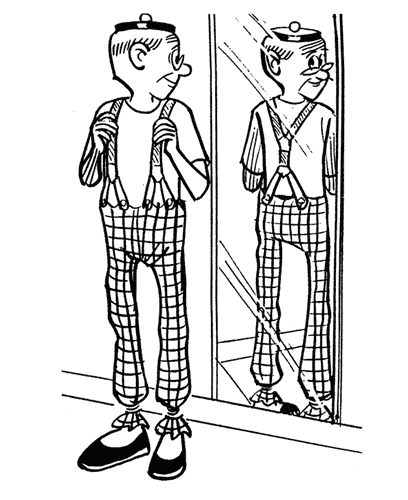 6) Socially conscious shoes for a good cause
Those shoes that OMQ is wearing are must be a pair of TOMS shoes. He feels good inside knowing that this pair of shoes he bought helped a poor child in a developing country receive a pair too. Now OMQ and the child can ironically be matchy-matchy wit their footwear!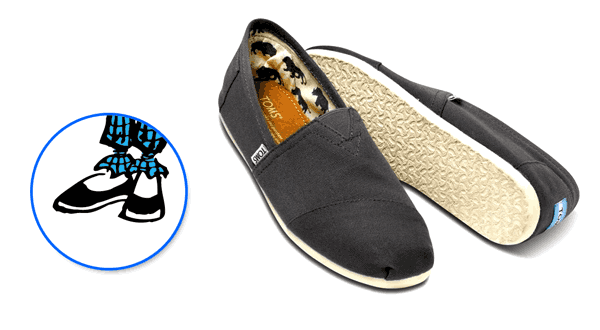 B. Obscure Interests and Talents
7) Fixie Bikes and Unicycles
Like most hipsters, OMQ rides a single gear bike because he's just that hip of a guy with simple, classic tastes.
However, he's even better on a unicycle.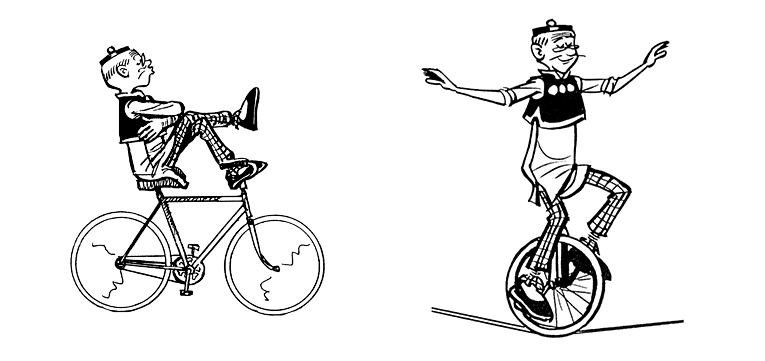 8) Multi-talented Musician
Hipsters often creative sides, which some express with the ability to play obscure instruments. Old Master Q is quite talented with all sorts of music. He can play all the standard instruments that everyone else knows like the guitar or piano, all at the same time! But he is most comfortable with the more ironic folk instruments like the banjo or accordion.

9) Unapologetic entitled attitude
You've seen that look from from the hipster barista at your local artisanal cafe before… The look they give you when you don't know the difference between the cortado made from single origin beans of Ethiopia that leave light notes of sweet basil, or the third-wave coffee in the Chemex pour-over. That look as if you're too uncultured for them to serve you. Old Master Q has that face on his bad days.
10) …and finally, Put a bird on it! 😉
Ok, we just threw this one in the list because we found this image.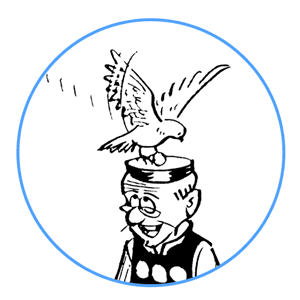 If you're wondering about the reference, check out this clip from the show Portlandia:
https://www.youtube.com/watch?v=iHmLljk2t8M

As fans of Old Master Q, we know that his style is one of the reasons we have loved him for generations! One day, when everyone is finally as hip as OMQ, his style will become too mainstream and he will have to move on to other ways to be different.